Introducing the Candy Bar Cookie in collaboration with @rachaelsgoodeats.
This soft chewy cookie is made with everything you want and nothing you don't, it tastes as sinful as a snickers except made with clean ingredients your body will love.
Each cookie is filled with house roasted peanuts, coconut sugar sweetened dark chocolate and a dollop of house made coconut caramel that just melts in your mouth. Finished off with a sprinkle of Maldon sea salt, each bite is sure to give you a healthy hit of nostalgia.
All items will keep for up to 14 days in the fridge or up to 3 months in the freezer.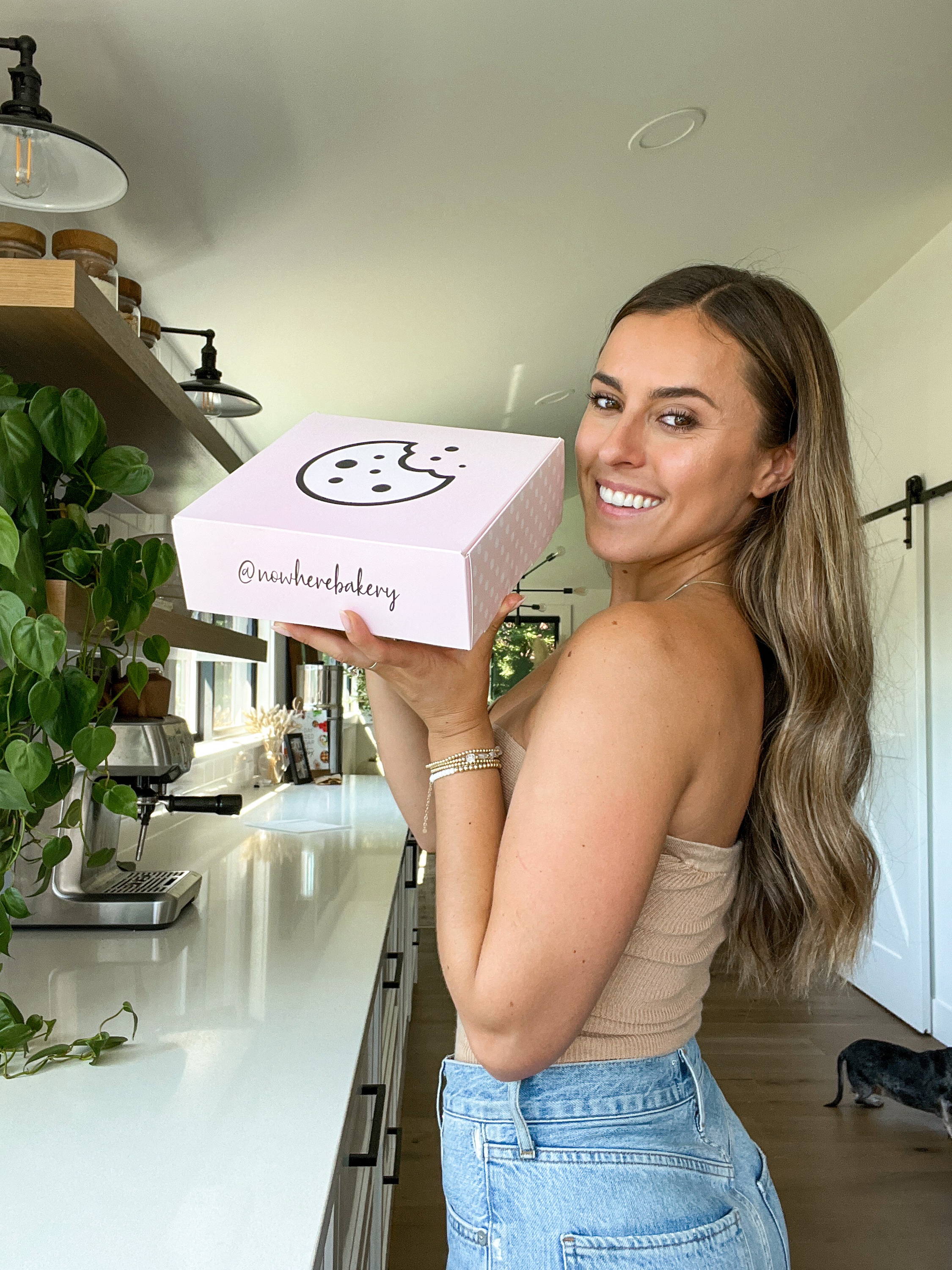 You might know Rachael DeVaux from her Good Sweat workouts and healthy recipes online (Cashew Chocolate Chip Cookie Skillet & Twix Bars, just to name a few!).

She has built quite a loyal community around her brand and is someone who people can trust, especially as a registered dietitian, cookbook author, and certified personal trainer.
Cut off for weekly orders are on Thursdays 1 pm PST or until we reach capacity. Whichever comes first.

Orders are made to order and shipped out Nationwide via 1-3 day express.

Local Pick Up is available from our facility in Costa Mesa, CA - pick ups are available on Mondays and Wednesdays between 8:30am-2:30pm.

We recommend adding Route protection to all orders to cover any lost, damaged or missing shipments.
Glad I ordered 12 pack, can't stop eating
THESE COOKIES, they are more than incredible! So easy to satisfy my craving too! I could freeze it and eat it WHENEVER I want!
Delicious!!
This was my first time ordering from Nowhere Bakery. I ordered the Candy Bar Cookie collab with @rachaelsgoodeats as well as a sampler box….YUM!! I have recently had to go completely gluten free, dairy free and egg free. I have definitely missed having treats, especially cookies. These were the first cookies that I've found that I can eat and that taste good. SO good! In fact, my entire family loved them!! I will definitely be ordering more!!
Wow
Such a great collab! I missed it the first go around so I was pleasantly surprised when they brought these back and I'm so glad I'm jumped at the chance.
Amazing delicious
My non gluten-free family didn't even know it was gluten-free. They don't like anything "healthy " but unfortunately for me, they love these cookies so now I have to hide it from them. Thanks for creating them. Now i don't feel like I'm missing out.