** Due to the perishable nature of this product. We are halting shipping until the warmer months are behind us.
A healthy take on your favorite Girl Scout cookie. Buttery shortbread, topped with a 2 ingredient maple caramel, all covered in a shell of dark chocolate and finished off with a sprinkling of Maldon sea salt.
Each order comes with 12 cookies. Works out to $3.91 per item. Store all items in the refrigerator on receipt, covered well.
They will keep for 12-14 days, covered in the fridge. All cookies can be frozen where they will last up to 3 weeks. Simply let thaw on the counter before enjoying.
IT'S WHAT'S INSIDE THAT COUNTS

A healthier alternative to Peanut Butter - Almond butter contains vitamin E, magnesium, copper, vitamin B2 (riboflavin), and phosphorous. It is also a great source of monounsaturated fat, protein, and fiber which are essential for heart health.

Every spoonful of Maple Syrup offers nutrients like riboflavin, zinc, magnesium, calcium and potassium, and even boasts more minerals and antioxidants than honey!

Organic virgin coconut oil is packed with the anti-bacterial, anti-microbial and anti-fungal nutrient lauric acid. This nutrient helps boost immunity and improve gut health. Coconut oil can also aid in restoring a healthy balance to an imbalance in the gut microbiome.

We went extra with our chocolate, sourcing it exclusively from The Santa Barbara Chocolate Company. The chocolate we use is sweetened only with coconut sugar, is 100% organic, soy and dairy free and locally made.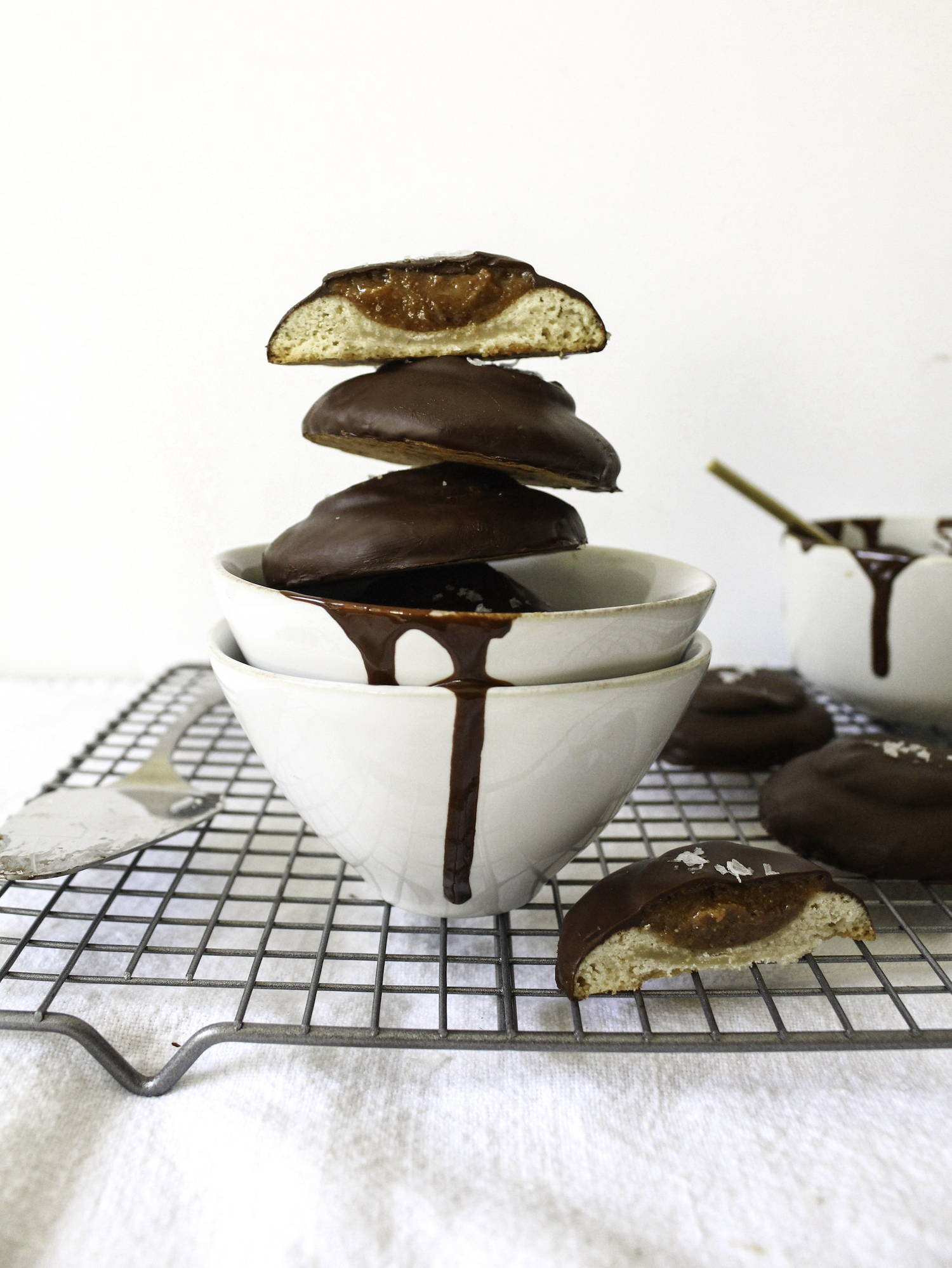 Cut off for weekly orders are on Thursdays 1pm PST

Orders are then made fresh Sundays + Mondays.

If Local Delivery is selected - deliveries are made Sunday for Los Angeles and Monday for Orange County.

Any orders made after the cut off time will go into the following week's order.
Best Cookie In Town!
Best cookie in town! It has almost the same ingredients as Hail Mary chocolates, but waaaay better. Not as bitter and definitely better tasting. Would highly recommend!
Yummy!
First time trying The Tags and will definitely reorder! The caramel middle is delicious and these cookies hold up really well in the fridge & freezer!
delicious! love the caramel center
Amazing Treats
Never disappointed! The ABC (formerly known as nutter butter) my all time favorite with the Tagalong my next favorite!