Due to the perishable nature of this product, during the warmer months we are only offering this to our Local Delivery customers. We will open up national shipping in November.
Everything you love about chocolate chip cookie dough made into an easy to eat bar. Soft and fudgy cookie dough base, topped with a layer of dark chocolate
Each order comes with 12 bars. Works out to $3.91 per bar. Store all items in the refrigerator on receipt. These also freeze really well and will give you more of a firmer bite when eaten straight from the freezer.
They will keep for 12-14 days, covered in the fridge. All bars can be frozen where they will last up to 3 weeks.
IT'S WHAT'S INSIDE THAT COUNTS

A healthier alternative to Peanut Butter - Almond butter contains vitamin E, magnesium, copper, vitamin B2 (riboflavin), and phosphorous. It is also a great source of monounsaturated fat, protein, and fiber which are essential for heart health.

Every spoonful of Maple Syrup offers nutrients like riboflavin, zinc, magnesium, calcium and potassium, and even boasts more minerals and antioxidants than honey!

Organic virgin coconut oil is packed with the anti-bacterial, anti-microbial and anti-fungal nutrient lauric acid. This nutrient helps boost immunity and improve gut health. Coconut oil can also aid in restoring a healthy balance to an imbalance in the gut microbiome.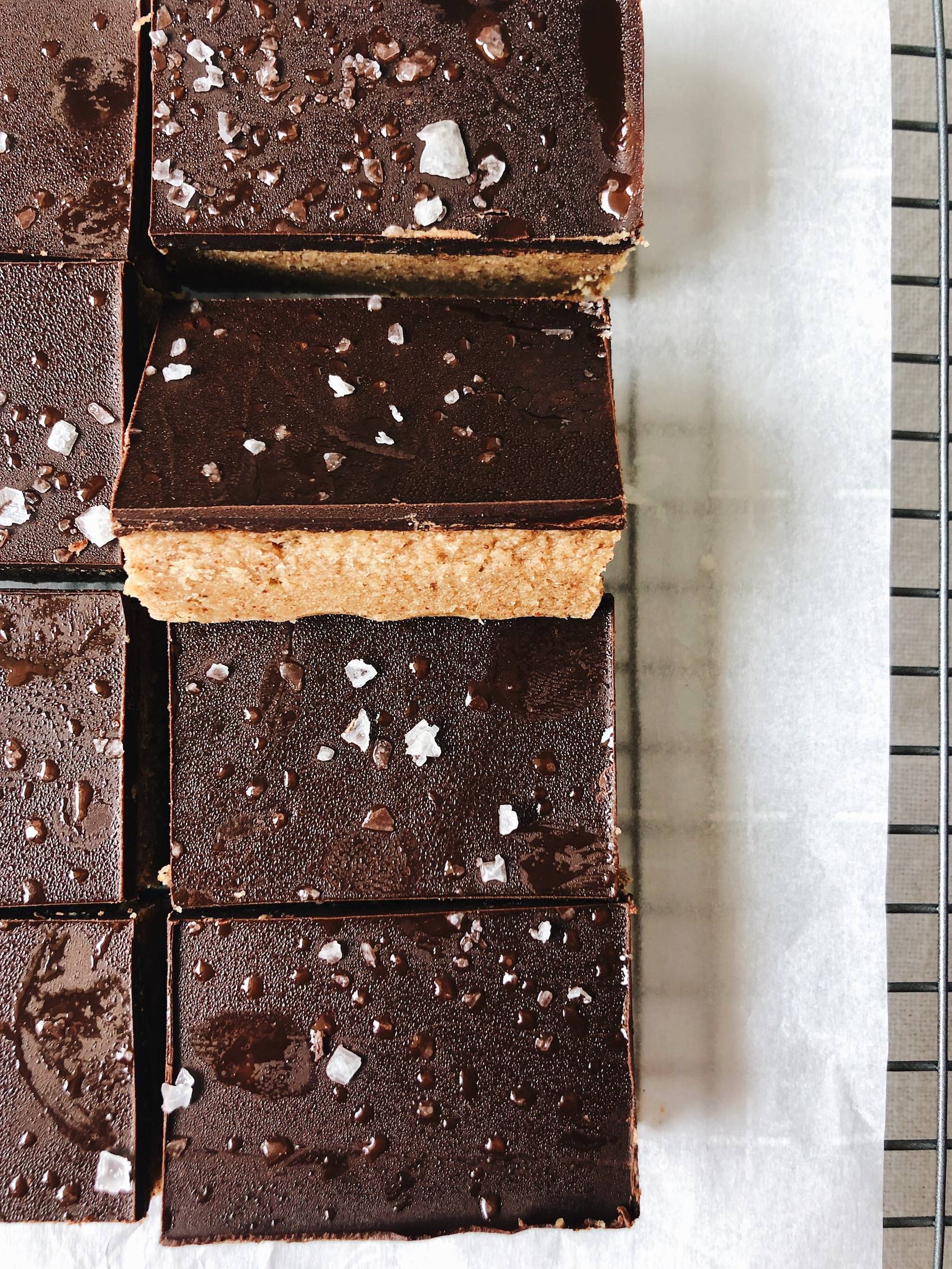 Cut off for weekly orders are on Thursdays 1 pm PST

Orders are then made fresh Sundays + Mondays

If Local Delivery is selected - deliveries are made Sunday for Los Angeles and Monday for Orange County.

Any orders made after the cut off time will go into the following week's order.
Delicious!!
Wonderful and totally healthy alternative to a classic favorite
This has a lot potential but it wasn't my favorite. Texture/taste was just a bit off for me as it was too mushy. I'm not sure if cookie dough is the right description for this bar which also may have affected my expectations for what this should have tasted like.
Cookie Dough goodness
You will be full and satisfied with just one.
Insanely Delicious Cookie Dough Bars!!!
As someone who became intolerant to dairy and sensitive to gluten in their late 20s (and there were far fewer yummy baked goods options), it was a difficult adjustment mainly because I love baked goods so much, and it is really awesome that I can now order delicious treats made with clean and simple ingredients that taste amazing!! I have had to ration myself with the cockle dough bars because I would have eaten them all up in a week or less and the taste and texture is amazing!!