1-3 DAY Shipping for ALL Orders IN THE USA
This Seasonal Product will officially launch for delivery on October 19th onwards. Pre Orders now open.
These Pecan Pie Bars are everything you would want from the classic pie - a shortbread base that's both buttery and flaky. A topping full of crushed pecans, caramel undertones, gelatinous texture, and hints of cinnamon. It doesn't get any better than this!
Each order comes with 12 bars. These bars can be kept covered in the fridge for up to 20 days or can be stored in an airtight container in the freezer for 1-2 months.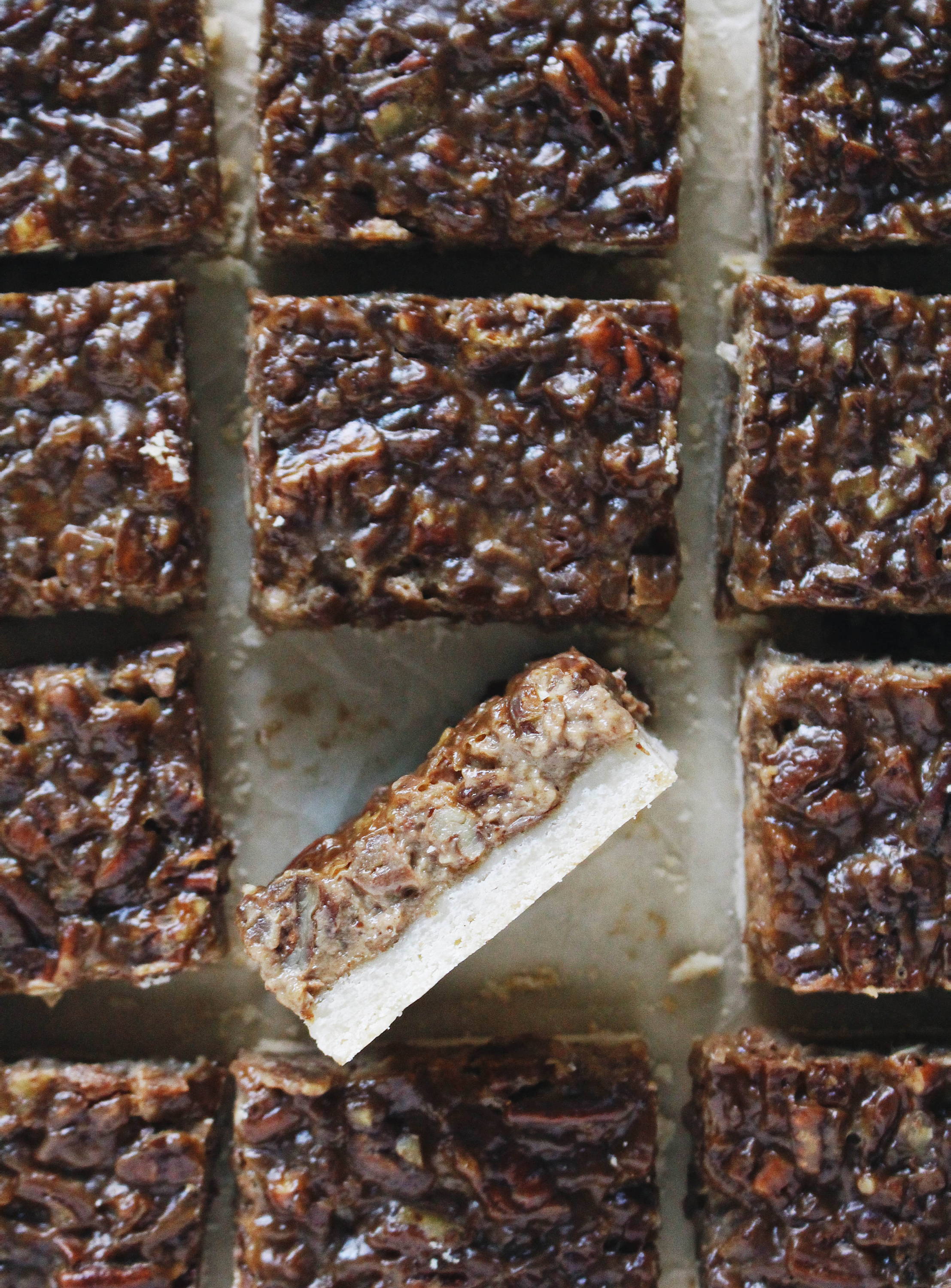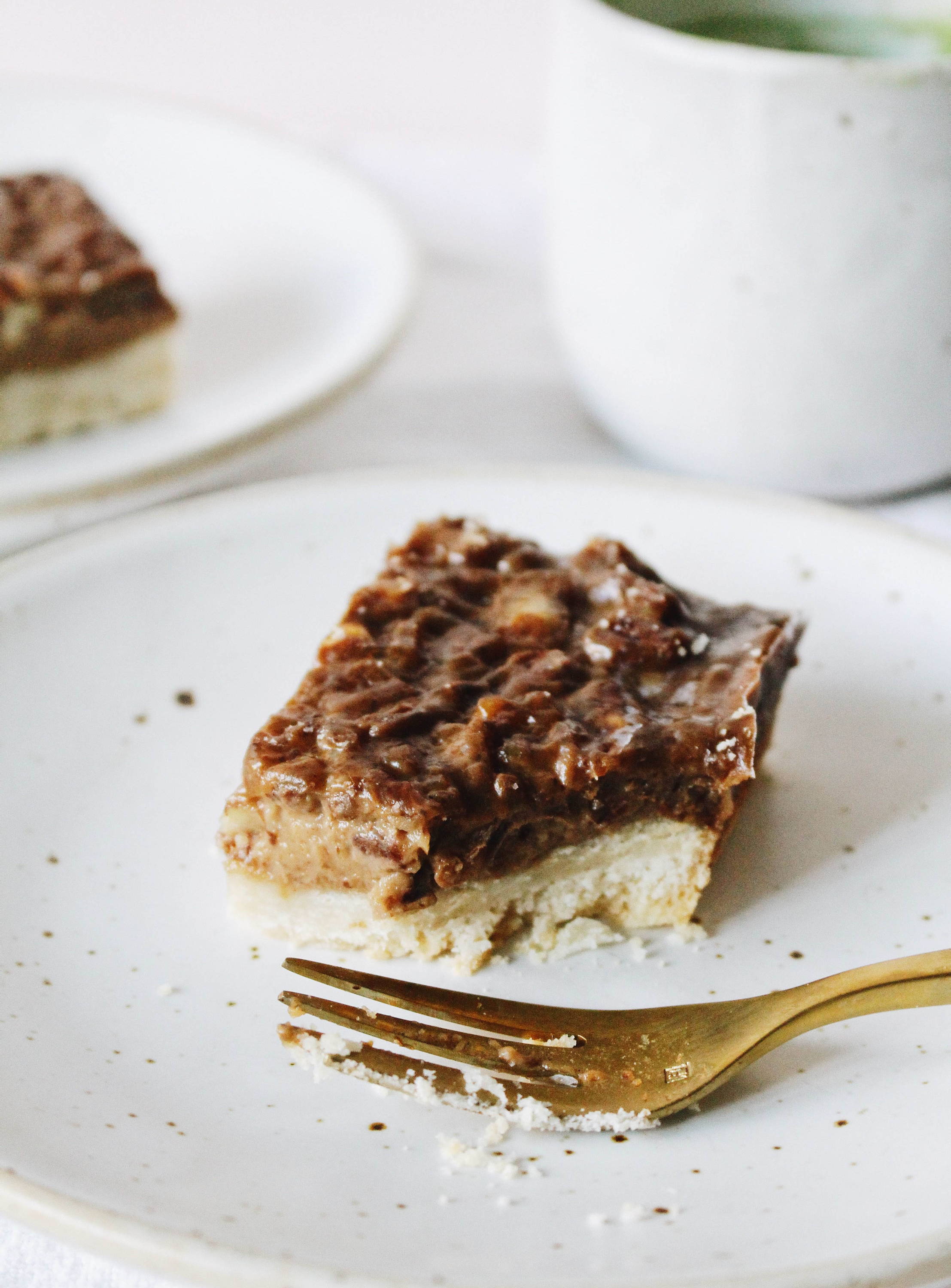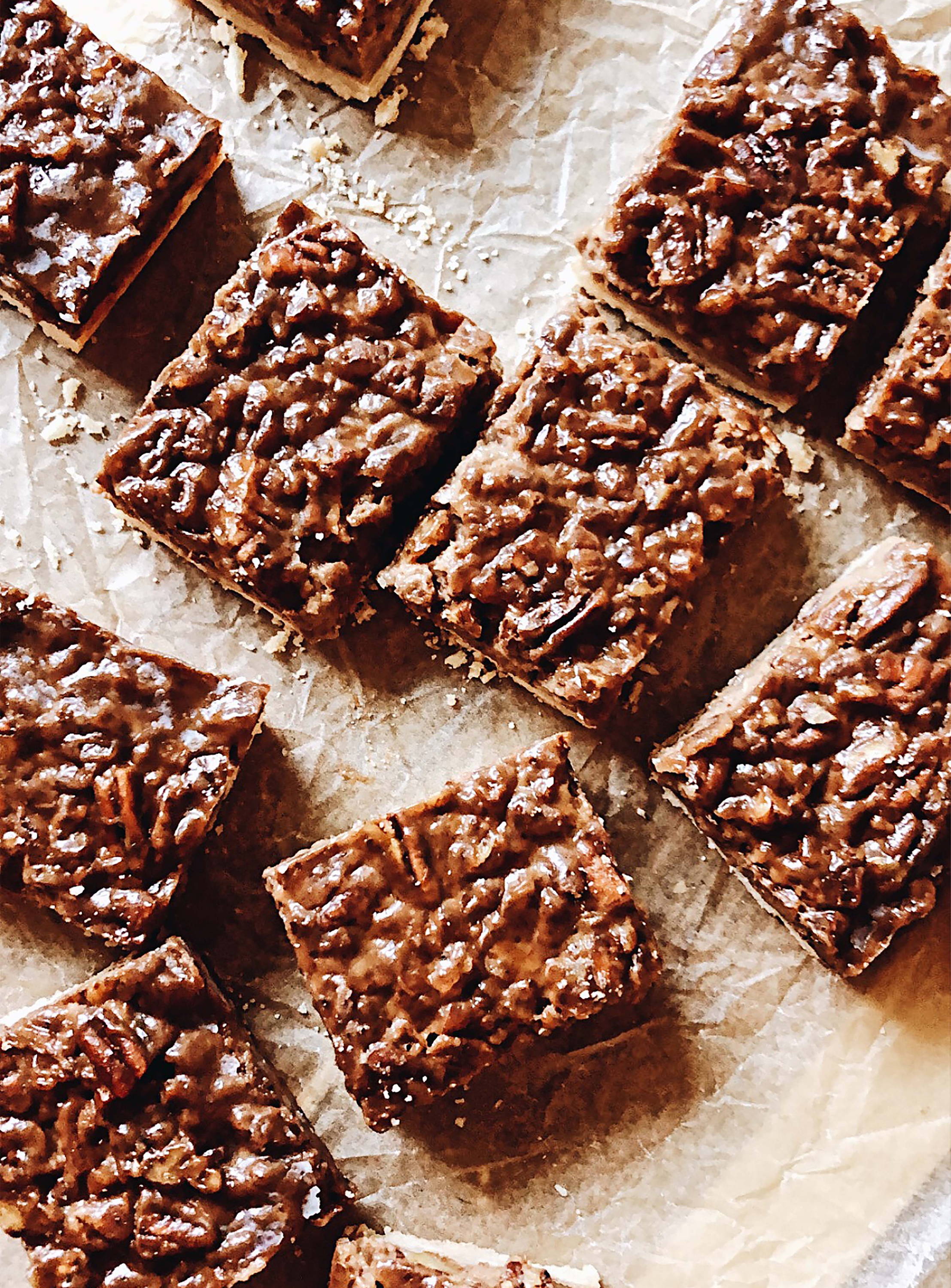 IT'S WHAT'S INSIDE THAT COUNTS

Organic virgin coconut oil is packed with anti-bacterial, anti-microbial and anti-fungal nutrient lauric acid. This nutrient helps boost immunity and improve gut health. Coconut oil can also aid in restoring a healthy balance to an imbalance in the gut microbiome.

Pecans are rich in magnesium which is known for its anti-inflammatory benefits. Pecans are also a rich source of manganese which is a powerful antioxidant. This trace mineral protects your nerve cells from free-radical damage, boosting immunity and protecting the body from disease and infection.

Coconut Sugar is packed full of minerals such as iron, zinc, calcium and potassium, along with some short-chain fatty acids like polyphenols and antioxidants. It contains a fiber called inulin, which helps to slow glucose absorption and balance your blood sugar levels, thus being a great low GI option as a sweetener.

Every spoonful of Maple Syrup offers nutrients like riboflavin, zinc, magnesium, calcium and potassium, and even boasts more minerals and antioxidants than honey!

Agar Agar is a plant-based gelatin derived from seaweed. We use this to help set the Pecan Pie in place of eggs otherwise used in a traditional version.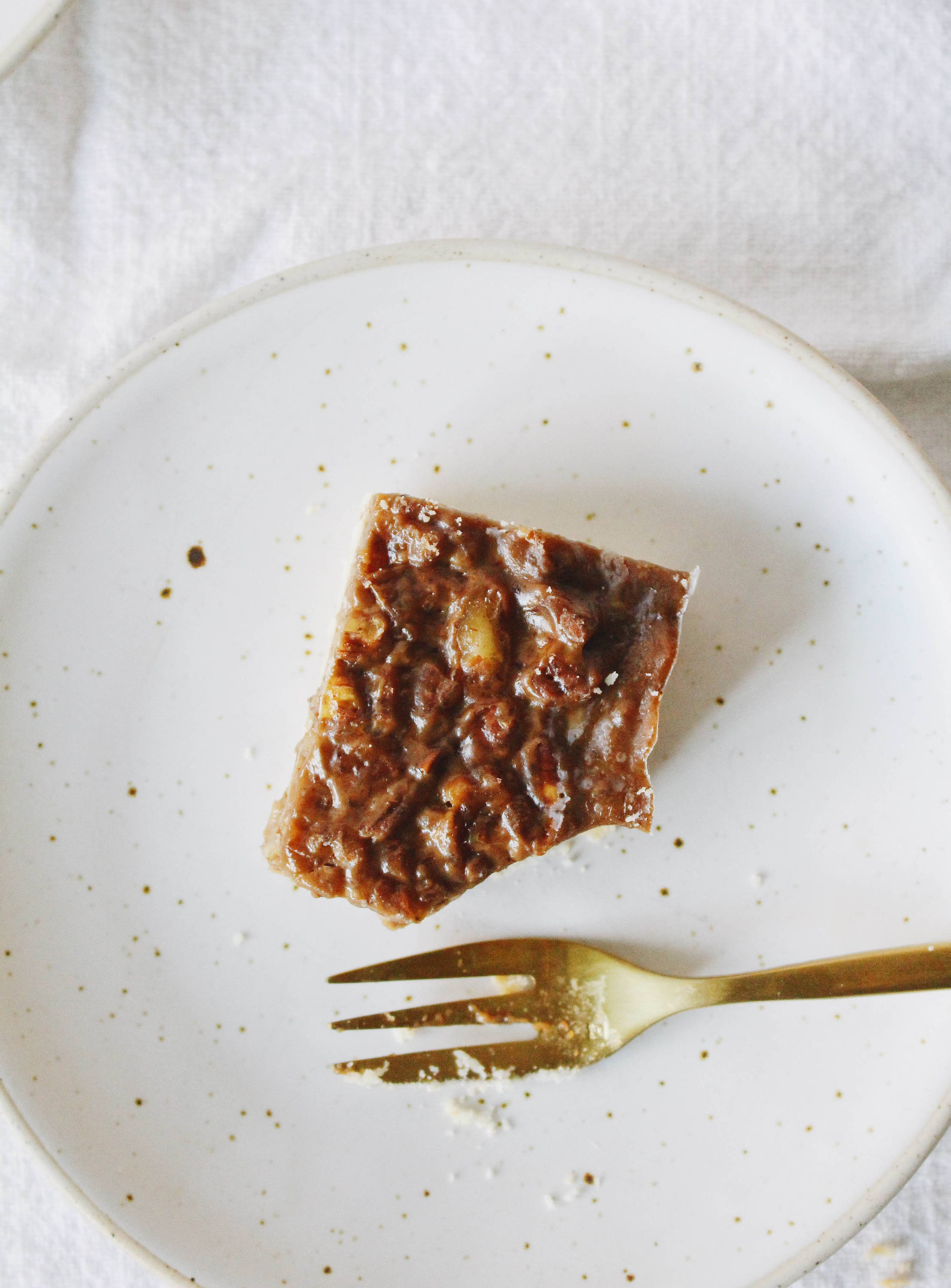 Cut off for weekly orders are on Fridays 6 pm PST

Orders are then made fresh Mondays and sent via Fedex or UPS the same day.

If Local Pick up is selected collection times are Mondays between 10-1pm for Costa Mesa or 6-8pm for Century City

Any orders made after the cut off time will go into the following week's order.
Hi! My name is Saphira, I'm a Kiwi born, LA based health nut with a sweet tooth and quite literally do a little happy dance everytime an order is made. Your support is appreciated more than you could know and I'm so thankful for every single one of you.
This company was founded in the midst of a pandemic when I felt the world needed more comfort food without any of the allergen filled ingredients. A baked good that came with benefits.
But don't be fooled, the treats at Nowhere Bakery are every bit as decadent and delicious as any other baked good, healthy or not ;)
With gratitude,
Saphira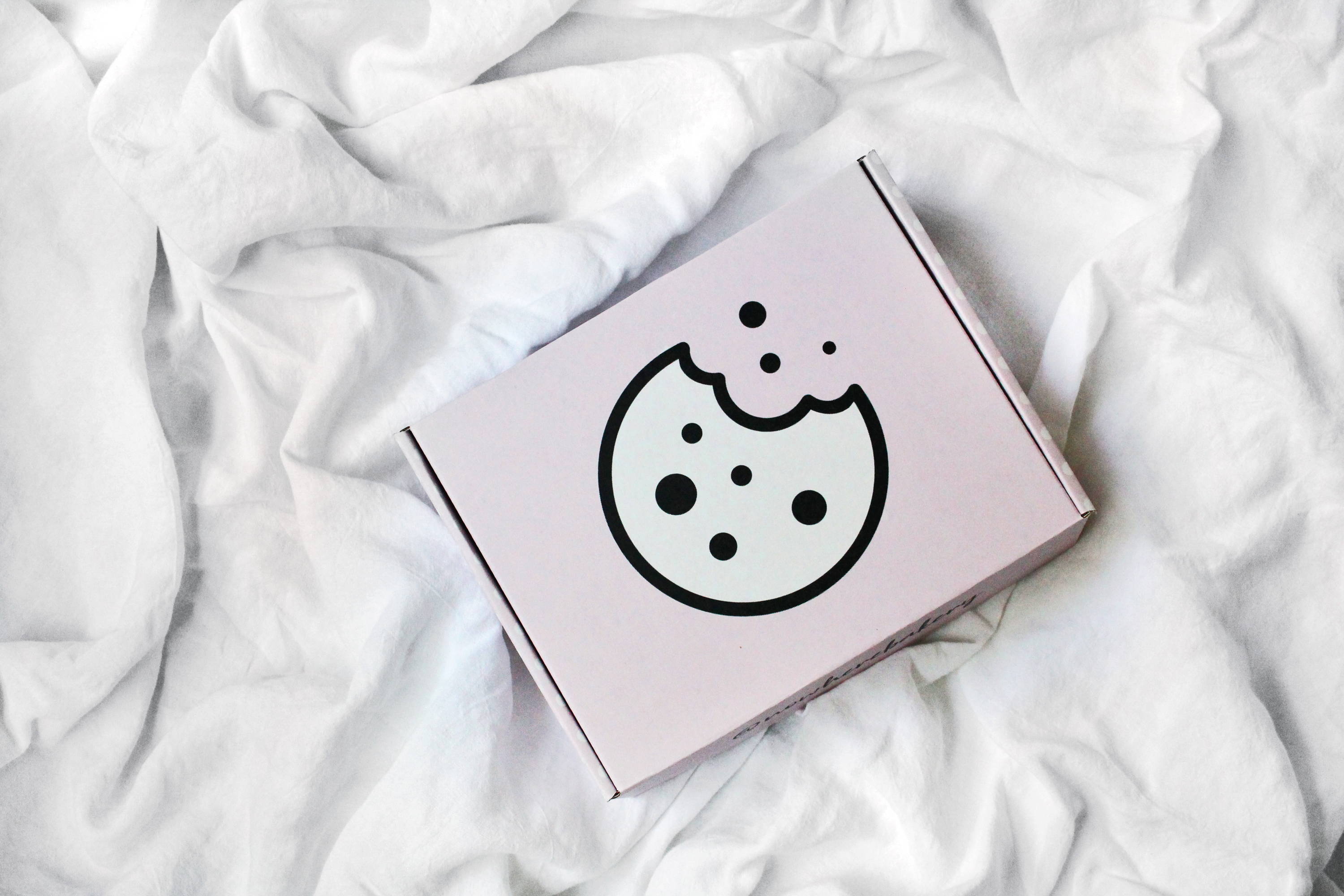 There is no related products to display.